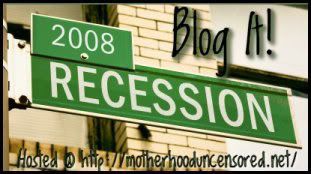 Came across Motherhood Uncensored's blog & she has this great idea for all bloggers to help one another.
Help some bloggers by increasing pageview, contributing to their ad revenue. But an even simpler idea: Getting to know one another, even commenting on each other's posts and helping each other out.
She calls it "Blog the Recession Month."
Her idea is nice & the premise is simple:
If you read blogs, then for the month of August, make the "pledge" to click through from your feed reader. No obligation to leave a hilarious comment or send a long stalkerish email (although both, within reason, are always lovely). Just click through to the blog (not on ads unless you are so led) and if you're feeling generous, click around to their older posts.

Just those extra page views can make a big difference for bloggers who could really use the help…
Pageviews, ad revenue but most important, comments. Comments are always nice to get. It helps me feel like someone is actually visiting & I'm not "sitting here blogging at myself."
I love the idea because it's fun, creates a community with like interests, and most of all allows me to feel like I am contributing something to you.
Welcome & Thanks for coming by…